To meet the increasing need for healthful dishes that are delicious and easy to make in the professional kitchen, Campbell's Foodservice has introduced eight flavorful new recipes with American Heart Association® certification. These are the first recipes for foodservice operators with the AHA's iconic Heart-Check mark, certified to meet the AHA's criteria for heart-healthy recipes as part of an overall sensible eating pattern.
The great-tasting eight are Creamy Dijon Chicken with Mushrooms, Easy Baked Chicken & Rice Casserole, Easy Chicken Shepherd's Pie, Hearty Chicken & Vegetable Chowder, Lemon Chicken Scallopini with Spinach, Lightened-Up Chicken Enchiladas, Santa Fe Chicken Sauté and Whole Wheat Pasta Alfredo with Chicken & Broccoli. Each recipe has no more than 425 calories, 2.5 grams of saturated fat and 600 milligrams of sodium per serving.
Not only are the recipes healthful, they are flavorsome and easy to prepare in the foodservice kitchen. For example, Whole Wheat Pasta Alfredo with Chicken & Broccoli requires a mere eight ingredients, including Campbell's®Healthy Request® Condensed Cream of Mushroom soup, and just four preparation steps, to produce 48 portions of appetizing pasta, chicken and broccoli in a creamy sauce.
To develop the recipes, Campbell nutritionists, chefs and consumer test kitchen staff worked hand in hand following the AHA criteria. The recipes feature convenient, labor-saving 50-ounce cans of Campbell's Healthy Request condensed soups, in patron-pleasing varieties such as Cream of Chicken, Cream of Mushroom and Tomato.
"One of the keys to these recipes being flavorful as well as healthful is using our Healthy Request soups," says Anita Shaffer, RD, Senior Nutritionist, Global Nutrition, Campbell Soup Company. "They add a lot of flavor to a recipe and cut down the number of other ingredients you need and thus reduce prep time."
"I personally like working with Healthy Request soups because of their nutritional profile," says Kathy Wilson-Gold, MS, RD, LD, Senior Strategy Manager-Healthcare, Campbell's Foodservice. "They are a great canvas for creating flavorful recipes that follow AHA guidelines."
According to Wilson-Gold, "a perfect storm" of tighter budgets, reduced staffing and increased government regulation is spurring the need for recipes like these that are "flavorful and easy to execute as well as nutritionally relevant."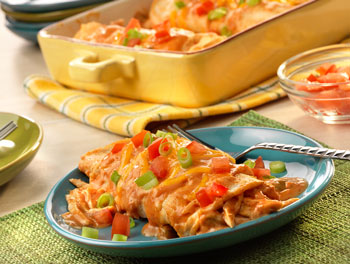 "The American Heart Association is pleased that Campbell is an inaugural participant to certify recipes meeting our heart-healthy nutritional guidelines," says Dennis Milne,Director, Nutrition Operations, Nutrition & Obesity Strategies Department, American Heart Association. "By taking several of the AHA-certified recipes that currently appear on the CampbellsKitchen.com consumer site and scaling them for distribution through their foodservice division, Campbell is helping to lead positive change in Americans' heart health by expanding the number of nutritious and flavorful meal choices available in a foodservice setting."
As an additional benefit, the eight AHA-certified recipes are available to operators on recipe cards that patrons can take to make these delicious, restaurant-quality dishes in smaller quantities at home.
"This gives home cooks as well as foodservice professionals the opportunity to prepare good-tasting, healthy recipes with easily accessible ingredients," says Rachel Johnson, Ph.D., RD, FADA, spokesperson for the American Heart Association/American Stroke Association, Robert L. Bickford, Jr. Green and Gold Professor of Nutrition and Professor of Medicine at the University of Vermont and Chair of the American Heart Association Nutrition Committee.  "At the same time they can have confidence that they are feeding their families and customers dishes that meet the rigorous AHA science-based criteria for heart-healthy recipes."
For more information about Campbell's Foodservice American Heart Association Certified Recipes, visit CampbellsFoodservice.com or download the guide at CampbellsFoodservice.com/AHArecipes.
About the Heart-Check Mark Program
The American Heart Association's Heart-Check Program was launched in 1995 as a way to give consumers an easy, reliable and trusted way to identify heart-healthy foods that make it easier to construct a heart-healthy dietary pattern. Almost twenty years later, over 900 products currently bear the iconic red heart with a white check mark, which has been expanded to include certified meals in restaurants, foodservice and recipes.  All certified foods have been thoroughly screened and verified by the association to meet criteria for being heart-healthy, including choices that are lower in sodium and added sugars. To learn more about the Heart-Check mark, and to see a complete list of certified products program participants, and nutritional criteria, visit www.heartcheckmark.org.
This post is sponsored by Campbell's Foodservice