Stimulate impluse purchases with creative merchandising
Featured content from our sponsors.
The math is easy. Students are always hungry. And they're always in a hurry. Add the two, and you've got the perfect impulse buyer. College students spend most of their discretionary income on snacks. And what they see—or smell—is what they buy. Here are some ways to maximize impulse purchases to create add-on sales all across campus.
Are college students really becoming more mature?
Gone are the days of the 18-year-old, living in the dorm and slurping ramen noodles. Today's college students are older (a growing number are over age 251), live on campus or at home, and often have a job. Although today's students may be slightly older and wiser—they're still in a hurry and have many of the same impulsive buying behaviors as traditional students.
Students are on-the-go impulse snackers.
As you might expect, time-crunched college and university students eat on the run. In fact, college spending at c-stores grew 15% last year2 as students grabbed easily accessible foods to tide them over until the next mealtime.
Why do they snack impulsively?
Possibly the greatest motivator of student snacking is impulse. When students are hungry, rushed, stressed, happy, intrigued, or even bored, they will grab a snack—no matter what the time of day. Studies show 62% of respondents admit to impulse purchases for snacks they ate away from home3. Time is another great motivator. Small, grab-able items allow the impulse snacker to satisfy hunger and multitask while driving (a recent survey reports that 60% of participants snack in the car4), studying, or even walking to the next class. An affordable price is also a big draw, as students spend most of their discretionary income on snacks and non-alcoholic beverages4. When an item has a lower ticket price, it's a quick, easy purchase decision without a big commitment.
What do they want?
A tempting muffin made with whole grain and berries. A fresh-baked cookie loaded with chocolate chips. An impulse snack has to be taste tempting and convenient to grab and go. Beyond that, students are looking for both healthy and indulgent options, bargains, and brands they know and trust.
How can C&U take advantage of impulse snacking trends?
Impulse snacking and college life go hand in hand. It's a wide-open opportunity for add-on sales at every venue, every hour of the day. Seeing is selling—but most students don't know what they want until they see it. That's where you can tap into the power of merchandising for impulse purchases.
Merchandising is both an art and a science. By strategically stimulating all of the senses, your selling environment can "reach out" to engage students through sight and aroma. And when you satisfy both emotional wants and practical needs (such as speed and price), the impulse purchase is already in the bag.
What's more, you can actually create the impulse occasion with the right mix of products and merchandising.
What could be more enticing, multisensory, and irresistible than the sight and aroma of fresh-baked goods? When you incorporate self-service bakery display cases, you'll make the experience even more interactive and engaging. Make sure you place the displays where students will see the items, such as adjacent to the beverage station in the dining hall or at the checkout in c-stores. To maximize the mouth-watering aroma of fresh-baked cookies, utilize a small oven right on site.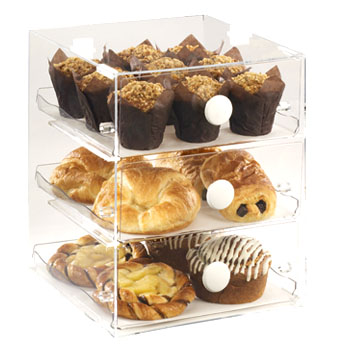 Keep it fresh and irresistible.
Maintain ever-changing offerings to keep students intrigued and returning all day long. For example, display muffins, Danish, croissants, cinnamon rolls, and other pastries in the morning. Offer fresh-baked cookies and muffins in the afternoon, and bake up indulgent brownies for late-night snacks. It's crucial to keep display areas clean, inviting, and free from trash or clutter. And don't forget product packaging that's attractive as well as convenient and functional to grab and go.
Utilize point of purchase materials.
Beyond the sight and aroma of the display case, utilize point of purchase signage, menu boards, bundling, special promotions, and even social media to stimulate impulse purchases. Baked goods are ideal impulse items (77% of all cookie purchases and 76% of wrapped muffin purchases are impulse5), so make the most of the whim by reminding students all across campus of the availability of fresh-baked goods in your operations. Your supplier of bakery goods should be able to provide you with colorful, enticing POP materials—as well as innovative ideas.
Here are some ideas to maximum impulse snack purchases all across campus—at every time of day:
Coffee Shop. Stimulate add-on sales by bundling cookies or pastries with coffee for a special price. They'll come for the coffee, but leave with a tasty impulse snack.
C-Store or Campus Market. Maximize impulse buying and the power of brands by offering branded, packaged sweet goods near coffee, beverage stations, or cash registers. Wire display racks are available from  manufacturer in sizes that will work for your locations.
Campus Hotspots. Utilize a small oven to entice impulse purchase of fresh-baked cookies during off-hours in dorms, bookstores, or the library. Fresh, wrapped-to-go cookies and brownies are also ideal for outdoor gatherings. Try sampling your bakery treats at sports events. If an oven isn't a possibility, high-quality thaw-and-serve baked goods allow you to easily answer student cravings.
Dining Hall. Increase add-on sales when you offer take-with-you snacks for later. Display fresh-baked products in self-serve cases—and keep offerings changing all day long. Utilize menu boards to promote special offers on drink-and-snack bundles.
No matter when or where you sell—make sure to utilize social media to intensify the immediacy for fresh-baked goodies.
With the right products and some creative merchandising, you can create impulse snacking occasions all across your campus. Many manufactures will partner with you by supplying POP materials and innovative ideas.
Sources:
1 U.S. Department of Education, National Center for Education Statistics. (2012). Digest of Education Statistics, 2011(NCES 2012-001),Chapter 3 .
2NPD Group "Making the Grade: Consumer Impact on the Retail Fuel and Convenience Marketplace," Nov. 13, 2012
3 monkeydish.com, Snacking takes a bigger bite, 2012
4 monkeydish.com, Snacking strengthens restaurant spending 2010
Foodservice Director, "Smart Marketing," 2009
monkeydish.com, Get Gap-itis