Have you noticed what's happening with gluten-free foods? Day by day, they're moving from niche status into the foodservice mainstream. The National Restaurant Association's "What's Hot" forecast puts gluten-free cuisine as the #5 food trend to watch for 2014.1 And even Time magazine notes that "nearly a third of Americans want to cut down on gluten."2
Peter Ross, Nutritional Services Operations Manager at Highland Hospital in Rochester, N.Y., has seen the importance of adding gluten-free choices within his operation, both in patient feeding and employee dining. The demand for gluten-free food "is growing all over the country. It's not a sidebar anymore," he says. "It's something that we took on and put front and center." Director of Culinary Excellence at Yale University in New Haven, Conn., Ron DeSantis, CMC, recognizes the growing demand among his student diners for gluten-free options. "Every single day, whether it is a salad bar or hot food, there are always grains, legumes and other things that a student can have that are very satisfying that will meet their gluten-free requirements."
Increasing your gluten-free offerings takes some special consideration, but it doesn't have to be an overwhelming proposition. Ross reached out to the local celiac group to build community awareness and to assure them "that we've done training with our staff so we know how to handle the foods and keep them separated from non-gluten-free food." And it doesn't take a complete revamp of your recipes, says DeSantis, who advises that you "experiment. I revert back to culinary fundamentals. What I can use is my culinary 'bag of tricks' to build the right flavors to create interesting, satisfying, craveable items."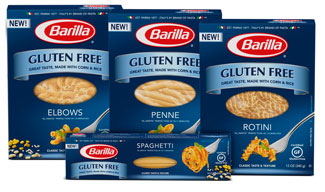 It's also important to let people know you're offering gluten-free choices. At Highland, Ross says that simply means a menu separate from the regular menu. It shows clearly what the gluten-free options are, thus alleviating confusion among patients and "letting them know they didn't have to use the basic menu; they could get something directed to their needs." He adds that "in the cafeteria, when we serve a gluten-free product, we heavily advertise it."
One popular — and possibly surprising — addition to the gluten-free menu at Highland has been pasta. The hospital offers pasta primavera, pasta with meatballs and penne with marinara. Before, those dishes would have been impossible to offer on a gluten-free menu, but with the new Barilla Gluten Free line, customers can have many of their favorite pasta dishes and be assured they're gluten-free.
Barilla Gluten Free products are made from a proprietary combination of white and yellow corn and rice, so they're naturally free of gluten. And unlike other gluten-free pasta products, they deliver great taste. In fact, in recent taste testing, Barilla Gluten Free dramatically outperformed the leading brand of gluten-free pasta.3
"We tried it," shares Chef DeSantis. "We think it's a great product — it's delicious. It was virtually undetectable between a regular pasta and a gluten-free."
It's available in four popular forms — spaghetti, penne, rotini and elbows — to fit your favorite pasta recipes. Your patrons already know and trust Barilla; they've made it the #1 retail pasta brand in the U.S.4, so they'll be happy to know they have a top-quality, flavorful gluten-free pasta choice available to them.
1 "What's Hot Culinary Forecast Predicts Locally Sourced Food as Top Restaurant Menu Trend of 2014," National Restaurant Association, December 3, 2013.
2 "Hunger Games," Time, January 20, 2014.
3 CLT Study 2013 — P & K Research.
4 Nielsen Scantrack, 2014.
This post is sponsored by Barilla